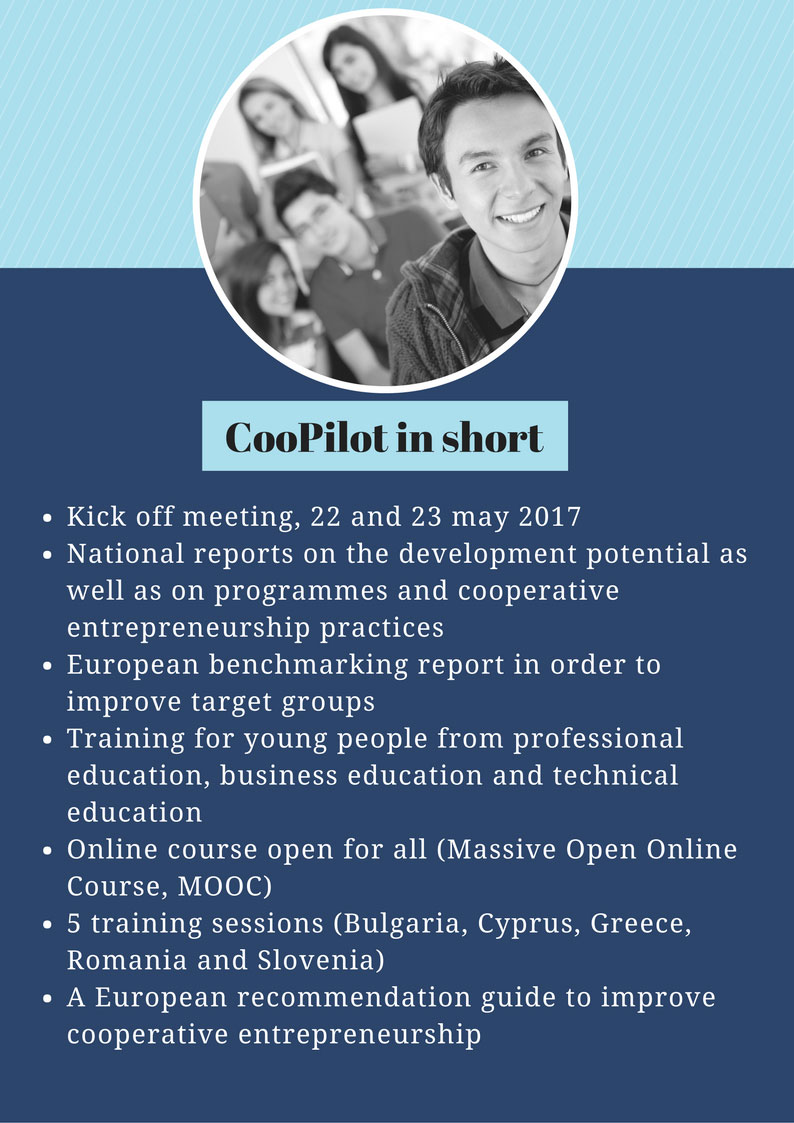 The project at a glance
COOPilot's objective is to provide innovative responses for youth employment challenges in the European Union, through the promotion of cooperative entrepreneurship. The originality of the project is to gather academic partners, training institutes, stakeholders of social economy, and public authorities.
COOPilot aims to transfer competencies from the more advanced countries in the field of cooperatives (Belgium, France, Italy and Spain) towards the less advanced ones (Slovenia, Romania, Bulgaria, Greece and Cyprus). The partners from Italy and Spain will design appropriate solutions (practical training models and an online course) based on the most adequate approach and methods.
The replication's potential of the outcomes of the preliminary phases of the projects will be tested at the occasion of five training sessions in the above-mentioned selected countries.
In the meantime, communication and dissemination actions will pursue the core objective of leaving a lasting legacy for the project, thus raising awareness on the cooperative model, and transferring entrepreneurship knowledge, skills and attitude to trainers and young people.
Objectives 
Reuniting three academic institutions, four social economy actors, two European networks and two public bodies, the main objective of the project COOPilot is to promote efficiently the cooperative model throughout education and training, across EU Member States.
Objective 1: Research and assessment of the ecosystem for cooperatives and entrepreneurship in the host countries for the pilot project.
Objective 2: Following the drafting of the reports, academic and cooperative partners will together create or adapt courses and methods to offer appropriate solutions to targeted countries.
Objective 3: In order to re-use on a wider scale the deliverables, knowledge and skills will be transferred to target groups.
Activities
Activity 1: Expression of needs and constraints of host countries for the training sessions;
Activity 2: Research, collection of good practices and national specificities;
Activity 3: Creation, adaptation and improvement of tools, courses, and related documents;
Activity 4: Preparation of training sessions;
Activity 5: Organization and implementation of the training sessions, knowledge transfer on how to use training models;
Activity 6: Assessment and recommendations;
Activity 7: Communication and diffusion of the project activities and outcomes.